We love remodeling houses especially when the changes are so drastic! This project started when the homeowner contacted us with the desire to add a type of "guest suite" in her basement/garage. When we arrived this is what the space looked like:
We worked closely with the homeowner and an interior designer to give her a new floor plan that would meet all of her wants. In the end, the project turned out beautifully and here are the top 7 things that we think made this remodel amazing:
1. A Mudroom for the Guests – The new floor plan involved removing the overhead garage door and installing a new exterior door. This gave the guests access to their room and bathroom without having to come in and out of the front door!
2. A Larger Window – Where the guest sitting room would be, the homeowner wanted us to remove the existing window and install a larger window in it's place. This decision made the sitting room one of our favorite rooms in the new space!
3. Custom Shelves in Mudroom – What a great idea to add custom shelving to the guest's mudroom! These shelves are beautiful and add to the character of the home.
4. A Tile Shower – The bathroom is nice but the tile shower makes it great! What bathroom doesn't look better when a tile shower gets installed?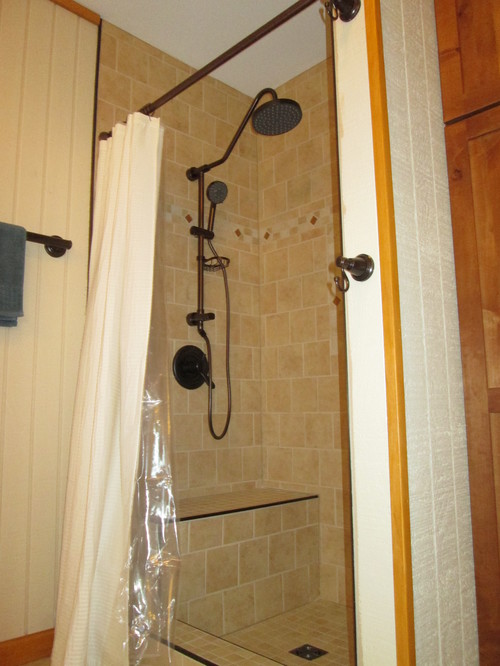 5. The Painted Wood Paneling – This gives the guest room that warm feeling which matches the rest of the house and makes it feel like it was always a part of the original house plan.
6. The Washer & Dryer in Bathroom – This works out great! Not only does the washer and dryer have a place to stay but when guests are there they can do laundry!
7. The View – We can't talk about this beautiful remodel without mentioning the spectacular view! Indiana's landscape certainly is breathtaking!

Social tagging:
Additions
>
Apartments
>
Bathrooms
>
Custom Shelving
>
Entryway
>
Flooring
>
Layout Change
>
Open Shelving
>
Paint
>
Special Projects
>
Tile